Pace 500 Step-through ebike
Pace 500
Step-Through Ebike
Step-through and have fun! The Pace 500 Step-Through takes our most popular ebike and makes it accessible for everyone. Whilst the step-through makes getting on the ebike a breeze the five levels of pedal assist and a throttle with speeds of up to 20 mph also make riding this ebike as easy breezy as it can get! A powerful motor, 750W peak output, ensures that, even on the steepest hills, your ebike still has the power to get you to the top. The large battery means that after the climb you still have the juice left to get you home. All of this is built into an upright frame equipped with a cushy saddle, meaning that you will experience the power in one of the most relaxed and comfortable positions you'll ever find yourself in on any ebike!
Backlit LCD Display
Focus on the road in front of you knowing that all the information you need is available right on your handlebars on an easy to read LCD screen. Displaying speed, pedal assist level, range, and distance covered this screen is backlit for easy nighttime riding too!
Upright Step-Through Frame
No need to swing that leg over on the Pace 500 Step-Through. We took our most popular ebike and made it accessible to everyone by adding a step-though. Combine that with our upright frame and you have one of the easiest to mount ebikes ever produced!
Hub Motor & Battery
Take your Pace 500 Step-Through anywhere with confidence! A powerful, 750W (peak), motor, and fast charging battery mean that you will be ready for whatever adventure comes calling!
Pedal Assist & Throttle
Breeze around without the need to pedal at all when using the throttle function or, if you fancy pedaling, kick in one of the five different levels of pedal assist to help you get where you're going without breaking a sweat.
*Aventon has the right without notice to the consumer to substitute components of at least equal quality for advertised Aventon ebike components in the event of the unavailability of such advertised components. More info
Excellent value
Although I've always ridden road bikes, we were looking for an ebike to take on RV trips. The Pace 500 is perfect for cruising, and even for cycling on longer routes with the pedal assist. I've been riding hilly routes that I previously would not because I didn't want to work so hard that I missed the beauty of the trails. Now I'll ride those more extreme routes because I know I can get the assist on the steeper hills. The only problem is that the battery has been a little hard to remove. There must be a knack to it that I've not mastered yet.
Love, Love, Love this Bike
Easy setup, great quality, beautiful celeste color, smooth ride and sooooo comfortable!
3 Week Review
No problems so far. I had the bike pro assembled just to be sure it was put together correctly with no missing parts. As an old man who still loves to ride a bike the feeling is like a cross between a bike and my old honda 750. The feeling of going down the road open to the elements has same familiar feeling. We enjoy it so far.
Pace 500!!!
I am 68yo. For many years I have been riding a 21 speed mountain bike. Usually I would average 11-12 mph and 12-15 mile ride would make me feel as if I had been beat up. With the Pace 500 I am able to ride with my son and other riders younger than me and more fit and I am now able to handle a 30 mile ride that I would usually have to pass on participating in.
I usually ride on PAS2 and it makes me feel as though there is less wind and the hills have been leveled out.
In one month I have ridden over 200 miles and have not regretted getting the Pace500.
Congratulations Aventon on a great bike.
Fun
Love my new pace 500 step through. My only two complaints are the loudness of the brakes and the fact that there's no suspension seat post. Does anyone know which would be the best one for a Pace 500 step through? I bought my bike at Eric's in Deerfield, Illinois, Unfortunately there were no accessories in the store for this bike.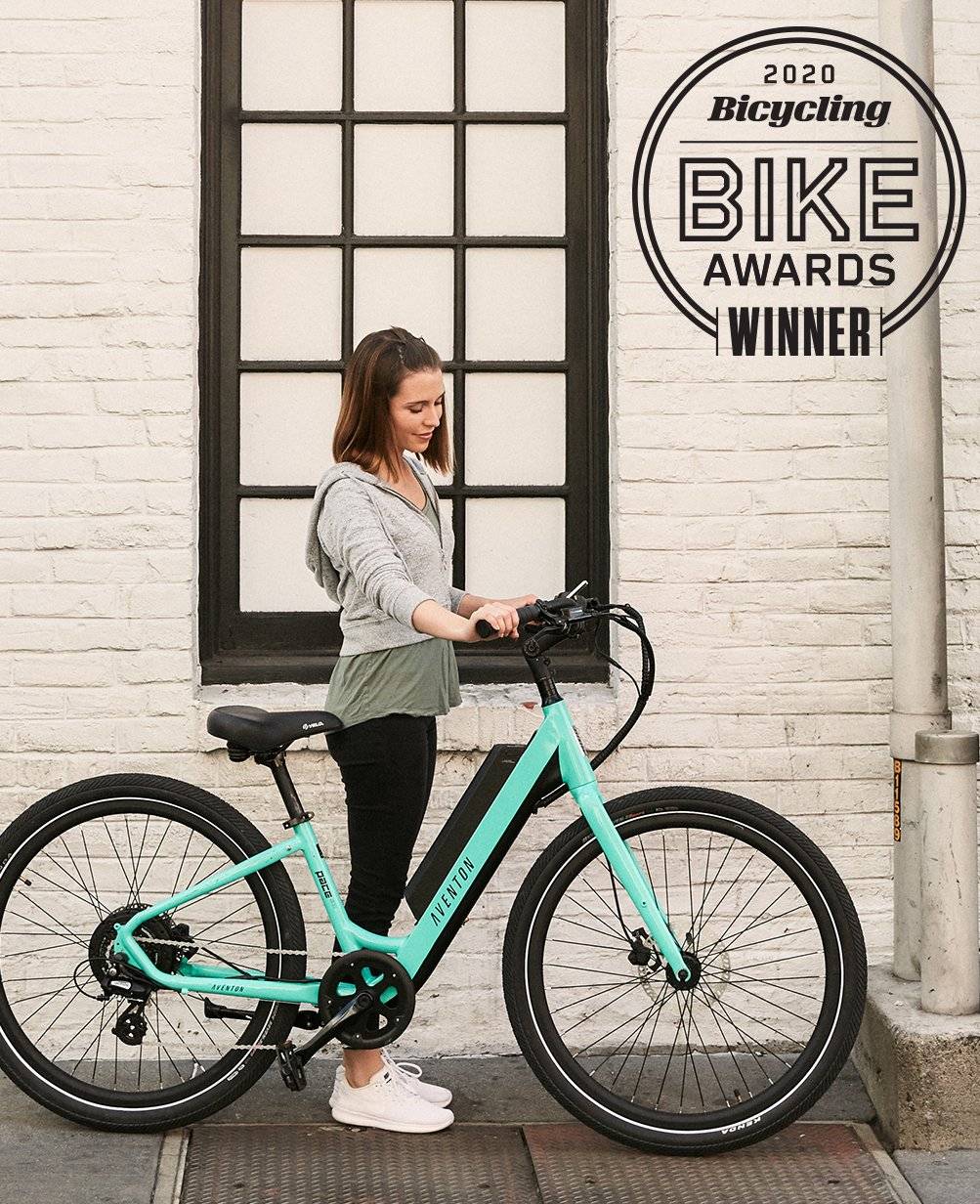 "affordable yet powerful and versatile high speed ebike which gives more bang for your buck"