"[The Aventure] display includes a USB port too, for keeping your smartphone charged when adventuring, and can sync with the Aventon app for storing rides, diving into stats and sharing adventures with friends."

"With Aventure, you can jump out of the city on the same bike in the bike lane and turn off with a trailhead or beach pass for more adventurous riding."

"The Aventon Aventure is at a whole new level of packaging, support and sophistications. Aventon has grown dramatically and they've invested significant dollars into their brand and infrastructure."

"The battery here is another hugely impressive feature on the Aventure, not just because of the specs, but because of how seamlessly it integrates into the frame."

"Aventon Bikes broadens its line of electrics with the new Aventure model, the SoCal brand's second fat-tire bike (following the Sinch folding ebike released in early 2020) but its first full-size fattie, rolling on 26-inch wheels with 4-inch-wide tires."

"Aventon has elevated their bikes, with the release of the Aventure, to what ebikes are evolving to."

"So far the [Aventure] is shaping up to be a win...showing that Aventon has been able to successfully take its urban/recreation roots and employ the same level of attention to detail and sleek design chops towards the adventure segment."

"On top of the [Aventure], Aventon is debuting what they call an industry first color display screen that integrates with an all new app...The app even displays how many trees you've saved riding on your bike instead of a car."

"Aventon is driving the industry to add more value to bikes that are already pushing the envelope of what's possible with a sub-$2,000 budget. It's the type of one-upmanship we really like to see in the budding e-bike industry."

"Aventon, a Southern California-based e-bike company, donated five e-bikes, eight scooters, and $40,000 to CHOC's autism center."

"Families with children on the autism spectrum got a huge surprise today, free bikes and scooters and a big donation of $40,000."

"Aventon designs its product line with inclusion in mind - creating affordable opportunities to own an ebike regardless of any biker's age, gender, or physical ability."

"After riding an Aventon "Level" ebike, I understood the demand. I was surprised and delighted."

"I am a longtime and experienced road and mountain biker...concluded that my best bet and the most bang for the buck I could get easily in today's market was Aventon"

"Riding through dirt and off-road obstacles was an absolute joy on the Aventure. It gobbled up all the small bumps and rocks on the trail, whether we were charging up tight singletrack or blasting down a fire road."

"You can tell that the company takes pride in the Level's construction, and was sure to outfit it with good components that matched its excellent build quality."

"Swanky gifts are a popular way for NFL players to connect and show their thanks for helping each other on the field. Adrian Peterson may have just broken the mold with this as it relates to the Detroit Lions."

"The lines and colors are attractive and it doesn't scream "I'm an e-bike!" like most other brands"

"While many manufacturers are having a hard time keeping up, we have our own factory so we're happy to have quite a lot of bikes in stock"

"This ebike [Sinch] offers the unbridled joy of cruising around on ridiculously oversized tires yet without sacrificing any build quality"

"There are a lot of small things that makes this [Sinch] stand apart from the rest"

"These e-bikes are a great asset to our current fleet of bikes and will enhance our capabilities to better serve the community" [LEVE]

"Ebikes are the perfect way to combat cabin fever by getting out of the house and having a little fun

"The brand has picked parts from reputable manufacturers and designed the system to fit the bike rather than purchasing from one of the larger organizations" [PACE]

"this Sinch bike is honestly just a blast and a half to ride"

"we think [the Level Step-Through] is one of the best class 3 (28 mph) commuter bikes in its price range"

"Someone had to take a foldable bike and make it electric. That's exactly what the team at Aventon have done. And oh how well have they done it" [SINCH]

"The Aventon Level is a beautiful e-bike that offers a masterclass in how to design a slick-looking bike that still offers plenty of get up and go"

"The company is now expanding manufacturing capacity from 3,000 bikes a month to 10,000."

"after riding an Aventon "Level" ebike, I understood the sudden demand"

"Not only does the company's bikes and E-bikes (they make track bicycles as well) get standout reviews, but virtually everyone loves their customer service, and if like me, you are new to E-bikes, you may well need some help."

"California-based manufacturer Aventon experienced staggering growth in Q2, with global retail and DTC orders rising 324% compared to the same period in 2019."

"With a front suspension fork and four-inch-wide tires, Aventon's Sinch broadens the types of terrain on which you can ride your folding e-bike."

"E-bikes with a throttle. To accelerate, you press a trigger or twist a handlebar. Many modern e-bikes with a throttle also have pedal assist. Brands include Rad Power, Luna Cycle and Aventon."

Pace 500
"A stylish and casual commuter that goes a whopping 28 mph—and has a throttle"
-Best Cheap Ebikes

Pace 350
"A remarkably solid e-bike for $1,099"
-Best Cheap Ebikes

"The Pace 350 felt totally viable for daily commuting."

"If price point is your primary driver, but you still want a product that offers quality and reliability, the Aventon Level is an excellent choice."

"We've been witnessing everyone come together and help in their communities during these uncertain times and it's truly awe-inspiring to us at Aventon"

PACE 350 IS ONE OF THE BEST BEGINNER EBIKES!

"The Founder and CEO of Aventon Bicycles, JW Zhang, decided to give back to the community during this coronavirus crisis by donating a pair of e-bikes and more than 7,000 surgical and N95 masks to Elmhurst Hospital."

"Powerful and feature-rich Class 3 commuting electric bike, competitively priced with impressive quality components throughout"

"Interest is so high that it's having trouble keeping stock on certain models. Preorders for medium Pace 500 step-through commuter bikes, which sell for $1,399, carry wait times of more than two months."

"Aventon Bikes, based in Ontario, California, claims to be flooded with orders, with sales up in Massachusetts (+298 percent), California (+85 percent), and New York (+164 percent)."

"Taking a slightly different approach, Aventon Bicycles were able to track down 4,000 surgical masks and 1,000 N95 masks to donate to the Loma Linda University Medical Center and Pomona Valley Hospital Medical Center. The company also donated two of their e-bikes to the Loma Linda University Medical Center as a way for employees to get around."

"This is a good bike for a budget-conscious commuter or someone who is looking for a bike that's an entry-level e-bike. It's well-made, has good ride quality, it's comfortable and has decent range."

"The Aventon Mataro proves how far another $110 can go within the track-specific sector. The frame, with its sleek aluminum and tapered head tube, looks a lot pricier than it is."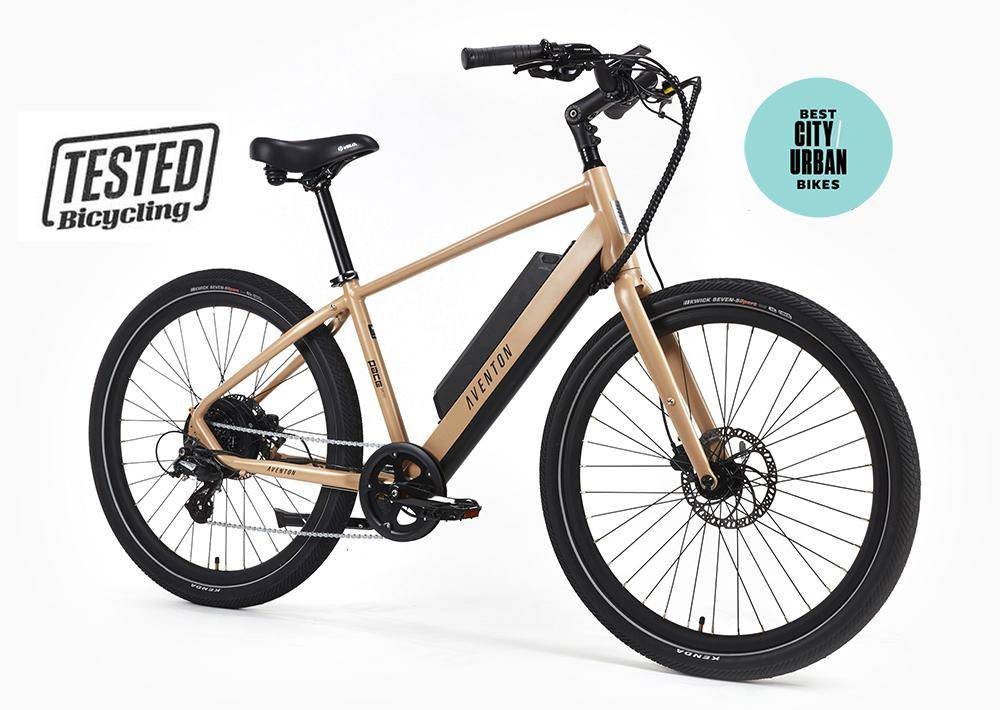 "The Pace 500 wasn't designed to be at the top of the e-bike rank charts; it's meant for the paycheck-to-paycheck folks among us who want a fun, comfortable, and reliable ride. Hallelujah!"

"These E-bikes and supplies are a life saver. We need to get supplies to our different hospital campuses, and I don't know how to do this efficiently... I can't thank Aventon enough! E-bikes are a lifesaver for a lot of people during this time."

"Aventon's recent sales figures seem to confirm many Americans are buying e-bikes to help them get out and about for exercise but also to for daily chores."

"The community has supported the company, so now it's time to give back – 4,000 surgical masks and 1,000 thousand N95 masks — to Loma Linda University Medical Center and Pomona Valley Hospital Medical Center, where supplies are running short."

"On a flattish route, including a bike path with numerous underpasses, it went 22 miles over 650 feet of total elevation gain before running out of battery. On the brief climbs coming out of the underpasses, the throttle alone kept the Pace 350 moving at double-digit speeds before returning to full speed on flatter pavement."

Cycle Volta's First Group Ebike Ride

"Aventon Bikes was also on hand to set riders up on its new Sinch and Level ebikes along with the Southern California brand's Pace 350 model."

"I wouldn't change anything about Aventon's Mataro. I've already recommended it as my current favorite first new track bike to new riders coming through my velodrome."

"Aventon Bicycles, an Ontario, California-based e-bike manufacturer and retailer, is donating thousands of surgical masks and N95 masks to two Los Angeles area hospitals in need. Luis Razo, the operations manager at Aventon Bicycles, said the company will donate 4,000 surgical masks and 1,000 N95 masks to Loma Linda University Medical Center and Pomona Valley Hospital Medical Center, where supplies are running short."

"The Pace 350 is a fun and comfortable cruiser style electric bike that is easy to ride. The upright and sweptback handlebar is comfortable and helps with seeing everything around you. The laid back seat position and comfortable seat add to the easy going beach cruiser style. "

"The Pace 350 features a nice electric drivetrain sporting a 20mph trigger throttle and cadence based pedal assist, each complimented well by the stopping power of 180mm mechanical disc brakes with motor inhibitors."

"The Sinch has a sleek and beautiful appeareance, Aventon really knocked it out of the park in terms of cable management and visual design, I appreciate the thick and sturdy wraps on the control cables, internally routed cabling, and the paint-matched fenders"

"The Aventon Cordoba utilizes an aluminum frame and carbon fiber fork in a modest geometry to build a bike that performs as well in an alley cat as it does on the boardwalk."

"These Aventon E-bikes and supplies are a life saver," Broersma said in the press release. "We need to get supplies to our different hospital campuses, and I don't know how to do this efficiently. "

""When we told the hospital about the mask donation, they explained they needed help transporting them and that's when we decided to donate the two E-bikes as well," Razo said in the press release."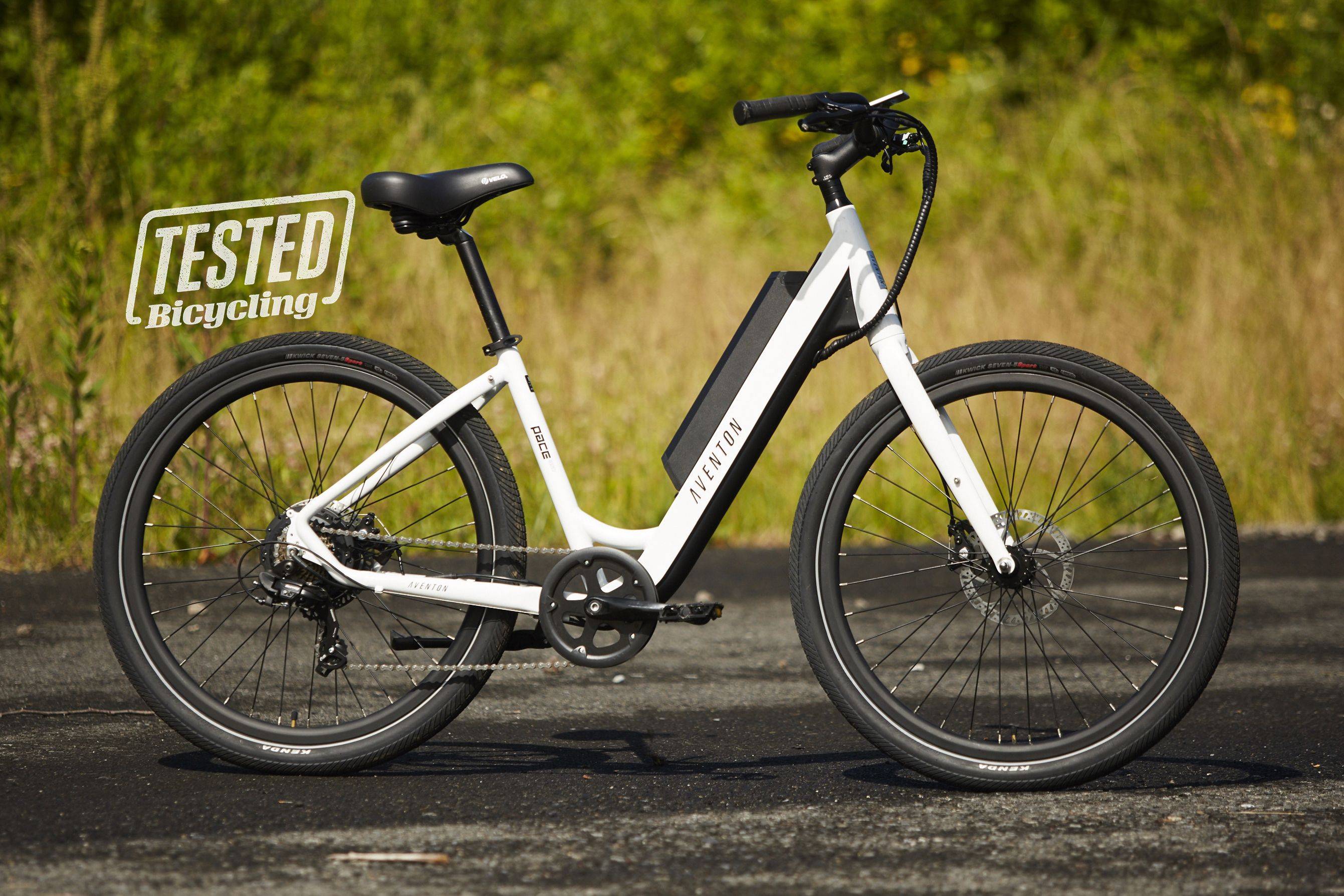 "If you've been an electric-bike window shopper all these years, now is the time to step inside and consider a purchase. The Aventon Pace 350 just made it easier (as in more affordable) to stop wishing and start riding."

"But one of the most impressive features worth mentioning about the Aventon Pace 500 speed bike is its price. At $1,400, it's proof that good e-bikes are no longer piling up on unattainable wish lists; they're finally becoming a reality for the masses."

"After many miles of testing the Aventon Pace 500 it has proven to be a fun and comfortable eCruiser with high performance capabilities! This is a fairly unique eBike because it combines the relaxed cruiser ride style with up to 28 mph of pedal assist and throttle up to 20 mph. "

"This is very much a bike built for urban riding and if you're staying in the bike lane, you likely won't miss the front suspension too much. But that extra speed, that's the key to turning the Aventon Pace 500 into a worth city commuter that can keep up with traffic when necessary, or blend back into the bike lane (at reasonable speeds) and do its bike thing."

"The Level is a well equipped eCommuter for zipping around town quickly! It can make commuting to work and running errands quick and fun."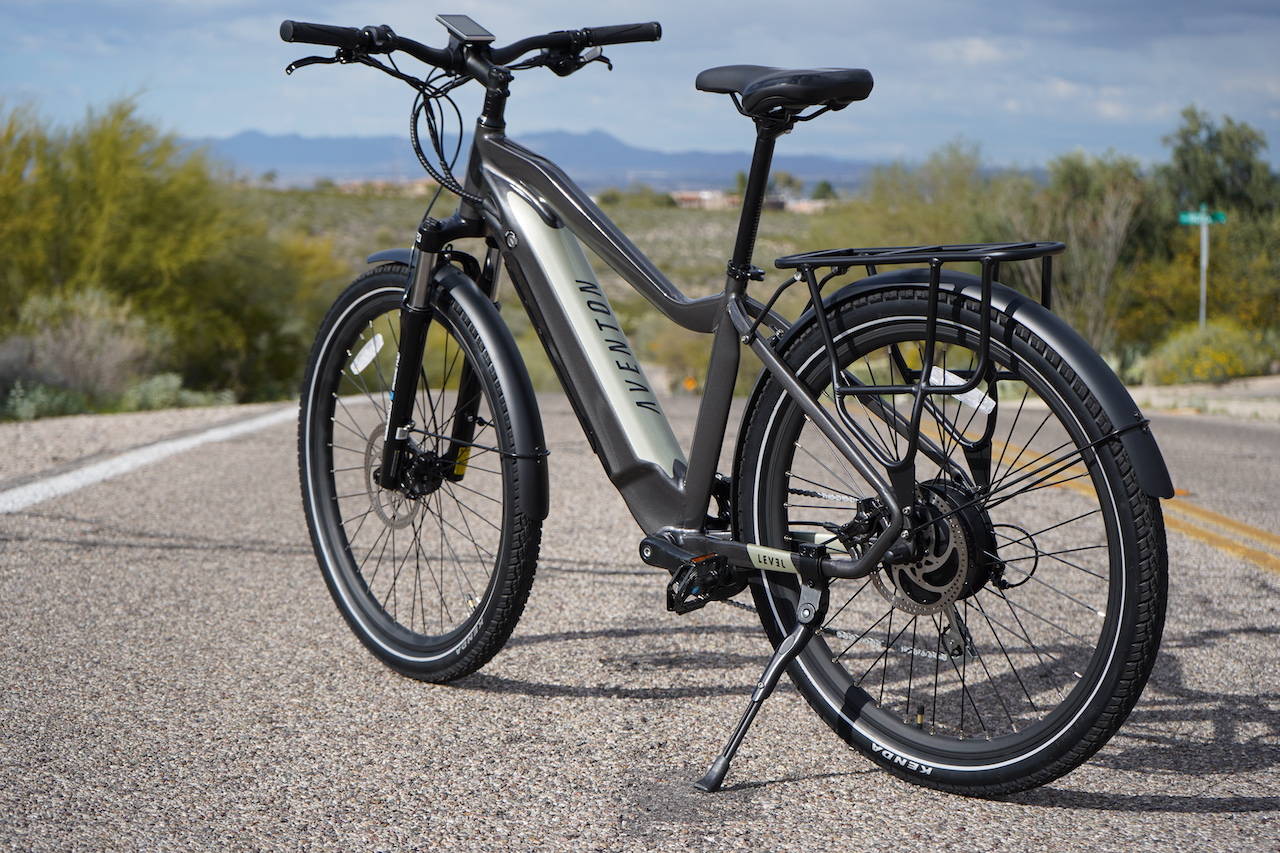 "The Sinch is a lot of fun to ride with its agile handling yet stable ride feel from the 4″ wide off-road tires. It is also easy to get on and ride with its relatively low frame design and compact wheels. In addition its a comfortable bike with the built in tire suspension, comfortable upright position, and highly adjustable handlebar and seat. "

"The overall fit and finish is very much Aventon, as is the ride. It's fun and responsive. It doesn't shoot off the line like another folding fat tire eBikes I own, rather the ride matches the refined quality of the build. "

"In this price level, I have found no other bike to compete. The Pace 500 is playful and a delight to ride. In the under $1,500 price point, especially as a commuter, the Pace 500 is amazing. "

"The team was looking great and feeling fast in our Eliel skinsuits and our new Cordoba frames. Aventon is focused on making fast bikes that anyone can afford, and the new Cordobas are plenty fast, so we had no excuses."

"This is a good bike for a budget-conscious commuter or someone who is looking for a bike that's an entry-level e-bike. It's well-made, has good ride quality, it's comfortable and has decent range. With standard mounts for a rack, this could be a good errand-runner."

"Aventon Pace offers a higher end motor and brake compared to it's price point."